Denise Barker of Realty Executives Pocono Pines has been honored by the Pocono Mountains Association of REALTORS® (PMAR) with the 2015 REALTOR® of the Year Award.
"We are thrilled to see Denise commended for her hard work and commitment to excellence," states Deirdre Cramer, Broker/Owner of Realty Executives Pocono Pines.
Receiving REALTOR® of the Year is the greatest honor bestowed upon a REALTOR® by their peers at the board level. The Award recognizes an outstanding member of the PMAR for meritorious contributions to the advancement of their profession, their community and the real estate industry. Nominees are considered based upon their history of integrity, spirit of cooperation with fellow REALTORS®, professionalism, involvement and participation at the state or national level, dedication, experience, and commitment.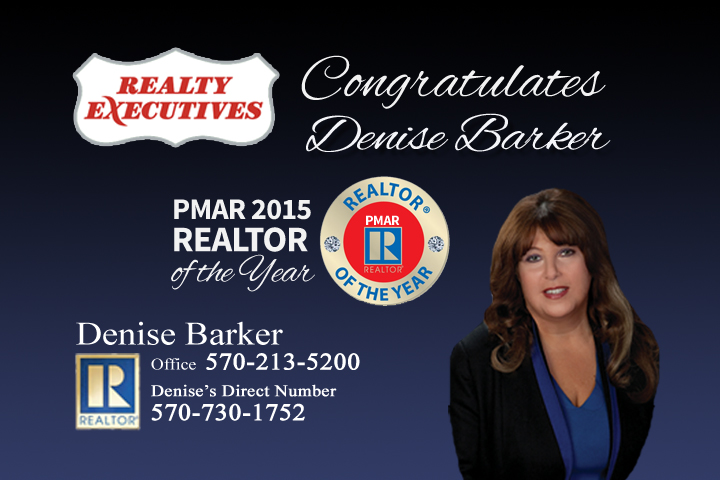 "We would like to congratulate Denise Barker on being awarded the 2015 REALTOR® of the Year award for exemplifying what it means to be a REALTOR®," says Nicole Murray, PMAR Association Executive. "We would like to extend our appreciation and thanks to her and to all of our PMAR REALTORS® for their dedication to our organization."
Denise Barker is a veteran of Pocono area real estate. Her friendly manner, common-sense approach, and hard work ethic have made her a customer favorite, with top-starred reviews on all major real estate sites. Barker is an expert with first-time home buyers, and has hosted seminars and TV programs to help low-income buyers find the grants and financing to finally own their own homes. Her clients span the entire Pocono Mountains, from modest weekend cabins to lakefront mansions and ultra-luxury business properties.
The Pocono Mountains Association of REALTORS® is a professional organization whose primary mission is to provide education, support and services to its members and to serve the public through the safeguarding of private property rights. The PMAR enables members to promote a positive image of the real estate industry by enhancing their ability to conduct business with integrity and competency while adhering to the REALTOR® Code of Ethics.
Realty Executives Pocono Pines has offices in Stroudsburg and in Pocono Pines, combining the strength of an internationally trusted brand plus the unparalleled expertise that only local professionals can offer. Realty Executives strive to personify the values, ethics, efficiency, and outstanding service that the Poconos community deserves.