Each year, Realty Executives International recognizes the leading Executives across our network through our annual awards program. As we celebrate 50 years of real estate excellence in 2015, we're highlighting the achievements of some of our most successful agents, (we call them Executives) sharing important keys to their incredible productivity in real estate, and honoring the many ways they make a difference in the lives of their clients.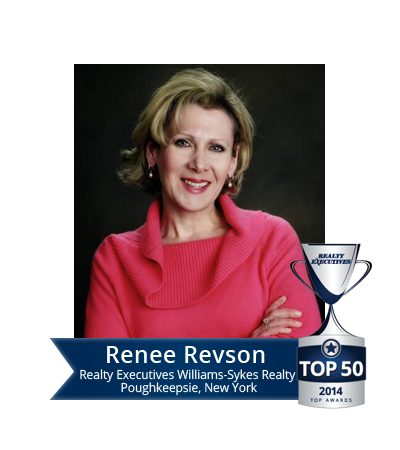 Licensed Associate Real Estate Broker Renee Revson of Realty Executives Williams-Sykes Realty in Poughkeepsie, New York has a host of specialties to her credit, having worked extensively with both buyers and sellers for over sixteen years (nine with Realty Executives). With a keen understanding of the ebb and flow of the real estate cycle and market, Renee shares with us how the Realty Executives business model coupled with full-time brokerage support and shifting market conditions helped shape another meteoric year in her real estate career.
Areas Served:
All of Dutchess County, New York including East Fishkill, Fishkill, Wappinger Falls, Hopewell Junction, Lagrange, Millbrook, Pawling, Pleasant Valley, Poughquag, Rhinebeck, Stormville, Poughkeepsie, Beacon, and Hyde Park
Specialties and designations:
Accredited Buyer Representative including First Time Home Buyers, Luxury Move Up Buyers, Downsizers, and New Construction.  Sellers Agency including expert negotiator, premier marketing, technology expert.
Which factors most attributed to your success in 2014?
1) The Realty Executives Business Model
2) The 24/7 support of my Broker/Owner Matt Williams
3) An extremely favorable interest rate environment
4) An improving job market
5) A continued shift in demographics
Did you have an "aha" moment in life – an experience that made it clear to you that real estate was the right career path for you?
I knew real estate was my calling when the vast majority of my clients told me they had purchased or sold homes before, but never had the service or results that they experienced with me. When one person tells you that, you just don't know their previous experience. When everyone tells you that, you know you picked the right career path.
What led you to join Realty Executives?
After six successful years in the business, the next logical step was to start my own business. Through online research, I learned about the Realty Executives business model, and quickly realized that instead of opening a brand new unknown business name, I would go with Realty Executives, employ their branding, and reap the benefits without having to start a business from the ground up. And I was exactly correct. The best career move I ever made was in June of 2006, when I called Matt Williams of Realty Executives Williams-Sykes Realty.   The results I experienced in my first year exceeded my expectations, and I have grown my business significantly every year since.
How has your brokerage supported your success in 2014?
Real estate is one of those businesses that you can't just do from 9-5, Monday through Friday. If your support is limited to that, you are not doing all you can do to close deals. My broker is literally available 24/7. We find solutions outside of office hours and by morning we are executing them. Continue reading →